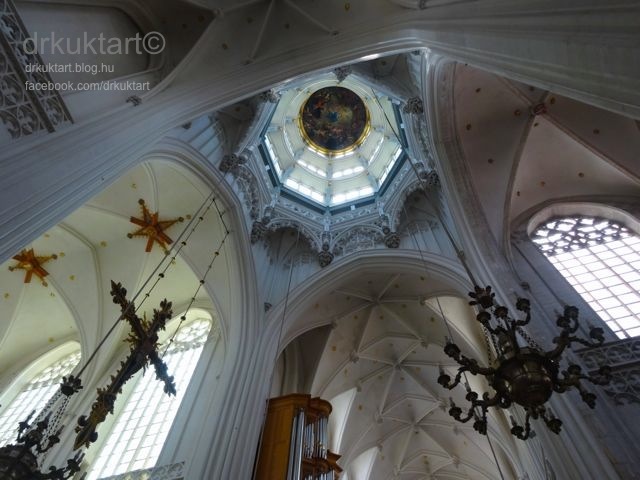 Kicsit Antwerpen (a korábbiakat itt and itt olvashatod) bűvöletében írkálom a blogomat manapság, hiszen alig egy hete tértem haza, és amellett, hogy  a közelben rendezett Tomorrowland-en résztvenni szuper dolog volt, volt alkalmunk kétszer is végigsuhanni Antwerpen belvárosán. Ezúttal a Miasszonyunk Katedrálist és az ott látható, németalföldi festők képeiből rendezett kiállítás morzsáit mutatom meg Nektek úgy-ahogy, de iziben!
Last week I visited Antwerp (you can read the previous ones here and here) because Tomorrowland was organized in a city which is located near by Antwerp. We were lucky because we stayed in the downtown of Antwerp so we had chance to visit the city quickly. Follow me and I show you some fragments of the Cathedral of Our Lady and the exhibition of dutch painters.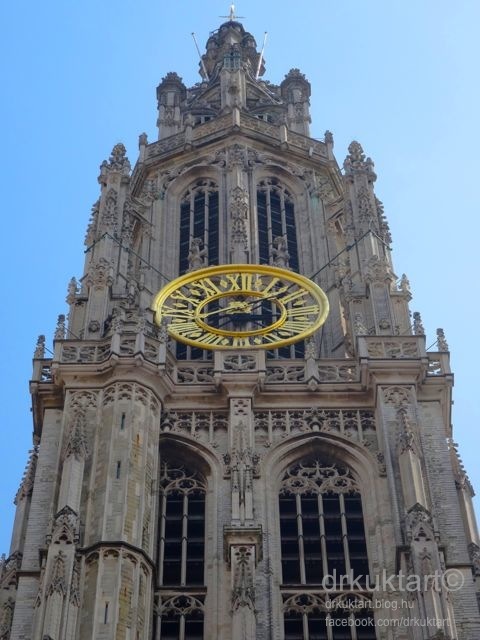 Előrebocsátom, hogy akik megbotránkoznak azon, hogy a hitéleten túl a Budavári Mátyás templomba való bejutás érdekében belépőjegyet kell váltani, azok lássanak csodát, ugyanis külföldön sincs ez másként. Az antwerpeni Miasszonyunk Katedrálisba ottjártunkkor például 6 euró volt egy belépőjegy ára (az árakról bővebb információt itt találsz). 
Good to know that you have to pay entrance fee (except if you go there to pray) if you want to visit the Cathedral of Our Lady in Antwerp. A single ticket costs EUR 6 (you can find more information about the prices here).I just mention that you have to pay here as well because many people don't understand why do they have to pay entrance fee for example in the Matthias Church in Budapest.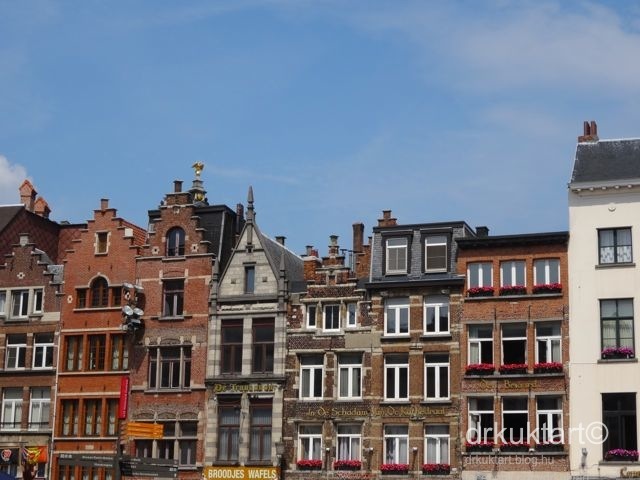 A templom egy tündéri kis téren található (címe: 2000 Antwerpen, Groenplaats 21). A teret egyik oldalról a templom, míg vele szemben körös-körül keskeny házak szegélyezik, amelyek előtt és alatt éttermek és teraszok (és turisták) tengerében tobzódhat a látogató.
The church is located in Groenplaats 21, 2000 Antwerpen. This is a romantic little square, but full with tourists, restaurants and terraces.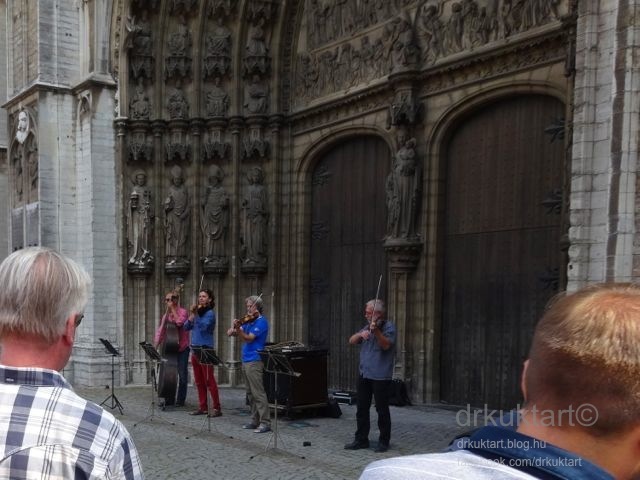 Rögtönzött koncert a katedrális (éppen felújítás alatt álló) bejárata előtt.
Spontaneous concert in front of the entrance of the cathedral. The entrance is under reconstruction as we saw it from the inside of the church. 

A tér: Groenplaats.
The square: Groenplaats.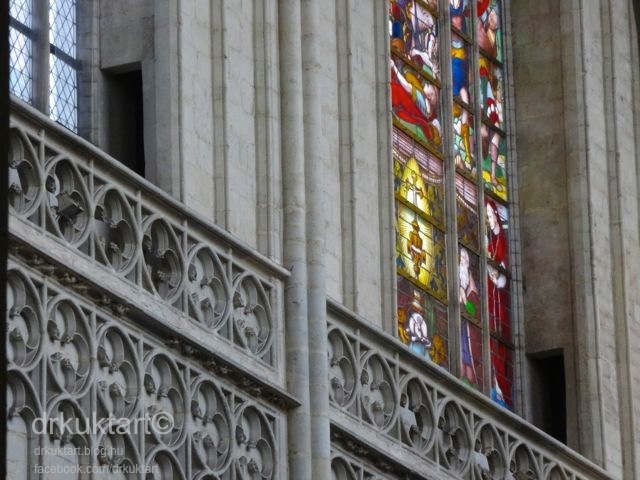 Ami furcsa volt, hogy a jegyiroda és a "templomi bolt" mind a templom területén belül helyezkedik el, gyakorlatilag a fő és mellékhajókban, ahová más templomokban már imádkozni járnak a népek. 
It was strange for me that the ticket office and the shop of the church are located in the main and side halls of the church.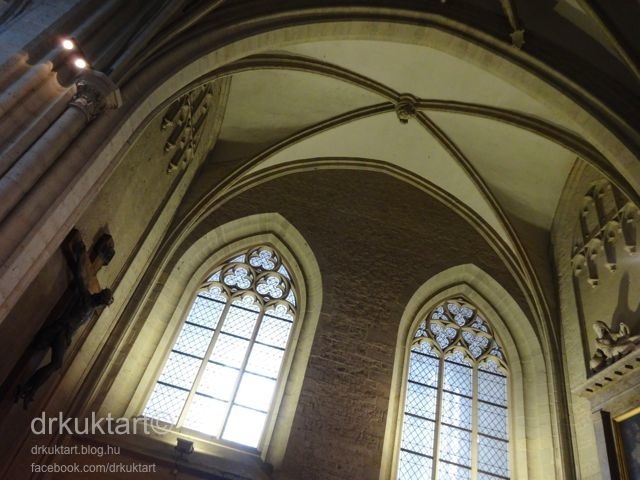 Miasszonyunk (Szűz Mária) Antwerpen és a Katedrális védőszentje is. A templom jelenlegi helyén állt a kilencedik től a tizenkettedik századig a Miasszonyunk kápolna, amelynek a helyére a tizenkettedik században egy másik, nagyobb templomot építettek román stílusban. 
According to the website of the Cathedral of Our Lady 'For more than a thousand years now, Antwerp Catholics have honored and revered Our Lady, who is the patroness of both Antwerp and the Cathedral. Where the Cathedral now stands, there was a small chapel of Our Lady from the ninth to the twelfth century, which acquired the status of parish church in 1124. During the course of the twelfth century, it was replaced by a larger Romanesque church. From wall and foundation remains, it appears that this church was 80 meters long and 42 meters wide, and must have looked something like St. Maria im Kapitol in Cologne...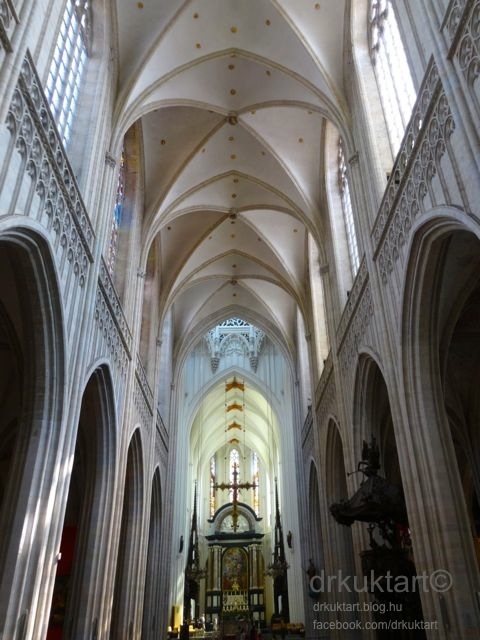 A Miasszonyunk Székesegyházat 1352-ben kezdték építeni és majdnem 170 év kellett a befejezéséhez. A templom építése 1521-ben fejeződött be. Eredetileg két azonos magasságú tornyot terveztek építeni, de a déli torony magassága végül alulmaradt a "küzdelemben". A templom 1533 októberében majdnem teljesen elpusztult egy tűzvészben. A tűz nem az egyetlen katasztrófa, amely a templomot érte: 1566 augusztusában az értékes berendezés jelentős hányada áldozatul esett a protestánok támadásának. 1581-ben, a protestánsok hatalomra kerülésével további értékes berendezési tárgyakat pusztítottak vagy távolítottak, illetve adtak el. 1585-ben a templom visszakerült a római katolikus fennhatóság alá.
...In 1352, construction was begun on a new church which would become the largest gothic church in the Netherlands. In the beginning, it was to be provided with two towers of equal height. In 1521, after nearly 170 years, the Church of Our Lady was ready. The south tower reached only as far as the third string course. After the new church was largely gutted by fire during the night of October 5-6, 1533, all energy and means went into its repair. The completion of the second tower was delayed, which led to its ultimate postponement. Moreover, the church only became the principal church of the bishopric of Antwerp, and hence a cathedral, in 1559, and lost this title again from 1801 to 1961 because the bishopric was abolished during this period.The fire of 1533 is not the only disaster by which the Cathedral was visited. Only 33 years later, during the Iconoclasm of August 20, 1566, Protestants destroyed a large part of the valuable interior. When Antwerp came under Protestant administration in 1581, a number of artistic treasures were once again destroyed, removed or sold. Only after 1585, with the restoration of Roman Catholic authority, did tranquility return once more….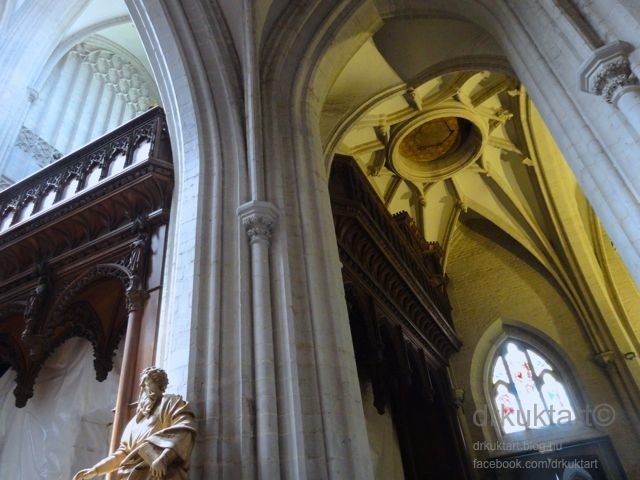 1794-ben, amikor francia forradalmárok hódították meg a régiót, a Miasszonyunk Katedrálist is kifosztották, egyidejűleg hatalmas károkat okozva ezzel a templomban. 1798-ban a francia fennhatóság fontolóra vette a templom elbontásának ötletét is. 1816-ban számtalan fontos műremeket visszaszállítottak Párizsból a templomba, köztük Rubens három művét is. A tizenkilencedik század folyamán a templomot teljesen helyreállították. 1965 és 1993 között további fontos helyreállító munkálatok történtek. Habár a felújítás, illetve helyreállítás folyamatos munkát igényel, elmondható, hogy napjainkban a Katedrális kiváló állapotban van.
...In 1794 the French revolutionaries conquered the region, whereupon they plundered the Our Lady's Cathedral and inflicted serious damage. Around 1798, the French administration even toyed with the idea of demolishing the building. But after each blow, the Cathedral was able to recover. In 1816, various important works of art were returned from Paris, among which three masterpieces by Rubens. And over the course of the ninetheenth century, the church was completely restored and refurnished. Between 1965 and 1993, another complete restoration took place. Although the work never stops and a number of restoration projects are still in progress, the Our Lady's Cathedral is in excellent condition today. Naturally, it still serves as a church, as a place where the faithful experience their belief, but more than ever it is also a many-sided museum that attracts hundreds of thousands of visitors each year from all directions and all continents.'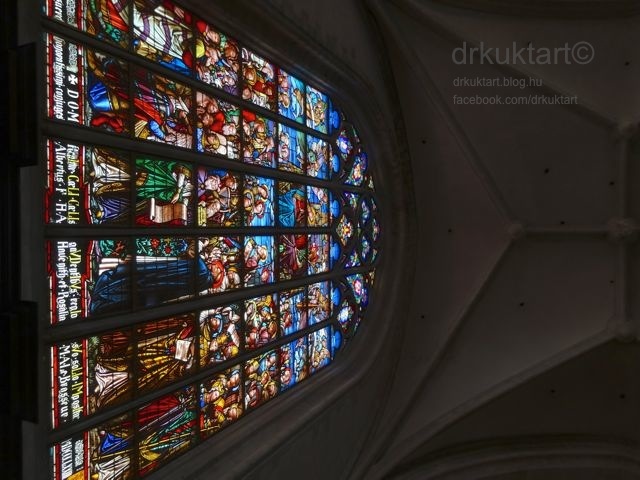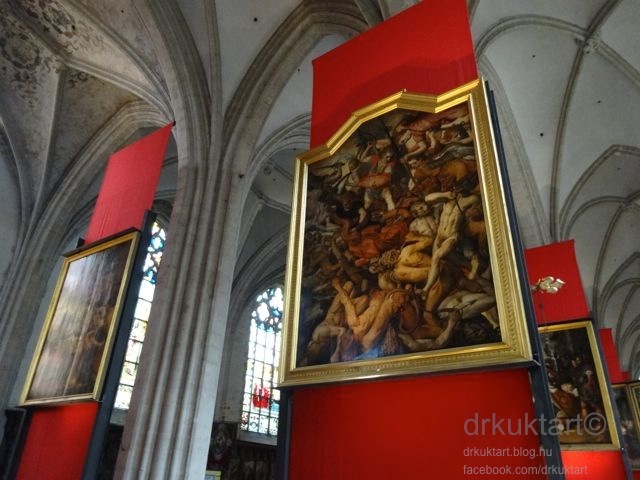 A templomban mostmár gyakorlatilag állandónak mondható, de mégis időszaki kiállítás látható. A REUNION nevet viselő kiállítás, amelyen  Quinten Metsijs munkáitól kezdve Peter Paul Rubens munkásságáig láthatóak festmények eredetileg 2009. június 5-én nyílt meg, és ugyenezen év november 15-ig tervezték nyitva tartani annak alkalmából, hogy az antwerpeni püspökséget 1559-ben alapították meg (azaz akkor éppen a 450 évfordulót ülték). Összesen 16 festményt mutatnak be, amelyből nyolcat a templomot eredetileg is dísztítő oltárképek adnak, és amely nyolc alkotás a francia forradalomig a templomot díszítette. A műalkotások főként az antwerpeni Royal Museum of Fine Arts-nak köszönhetően kerülnek bemutatásra a templomban. Az eredetileg tervezett nyitvatartási idő meghosszabbításának indoka az, hogy a Royal Museum of Fine Arts (másnéven KMSKA) jelenleg is felújítjás alatt áll (2011 óta). A múzeum felújításának befejezésével a műalkotások visszakerülnek a múzeumba. Jelenleg a kiállítás délelőtt tíz és délután öt óra között tekinthető meg, amely nyitvatartási időt a templomi szertartások módosíthatnak esetenként.
According to the website: 'From 5 June up to and including 15 November 2009, the Cathedral of Our Lady in Antwerp will be hosting the exhibition REUNION. From Quinten Metsijs to Peter Paul Rubens. Masterpieces from the Royal Museum reunited in the Cathedral. The exhibition has been placed under the High Patronage of Her Majesty Queen Paola. The Bishopric of Antwerp was founded in 1559. In honour of this event, the Church of Our Lady was re-baptized the Cathedral of Our Lady 450 years ago. (…) During its 450-year existence, the Cathedral has become a veritable treasury of religious art, which was painted and sculpted by renowned masters. Until the French Revolution, they were commissioned with decorating the pillars, chapels and walls of the Cathedral. In the wake of this upheaval, several altarpieces were transferred to museums, among which the Royal Museum of Fine Arts in Antwerp. The close collaboration with the Royal Museum of Fine Arts Antwerp has now made it possible to return eight of the most beautiful altarpieces in museum's collection to the Cathedral. Next to these works, the Cathedral will also be showcasing eight works that are featured in its permanent collection. These are mostly imposing works, mainly triptychs, measuring up to 5 metres wide and 3 metres high. These works will be integrated in the cathedral's current interior. This unique 'in situ' reunion will give visitors a spectacular overview of masterpieces created by the Antwerp school during the Golden Age. (…)' After the originally planned period of exhibition has expired it was decided to postpone the exhibition. 'The exhibition will now be extended until the reopening of the KMSKA. Important renovation works are planned in the museum which will start beginning 2011 and will last two years. During the closing of the museum the works can be further exhibited in Antwerp and "in situ", in the location they were ordered for by their buyers: guilds and crafts, city militias and brotherhoods. When the renovation of the museum will be completed these monumental, but delicate altarpieces can immediately be set up, with minor manipulation, in the rooms of the reopened museum.The exhibition is open daily from 10 until 17 o'clock, with limitations for visit during the weekends due to religious services.'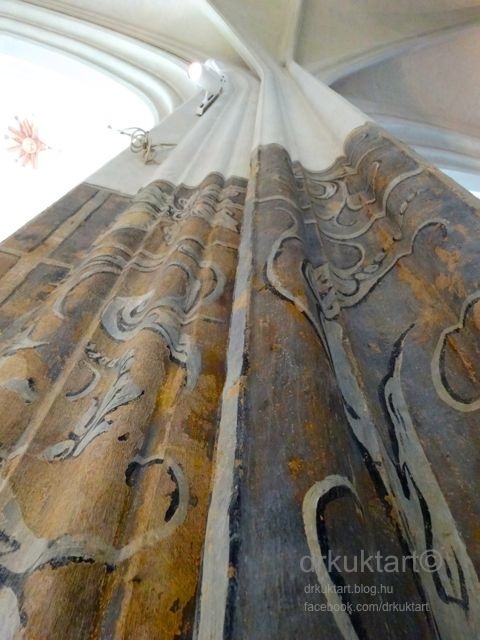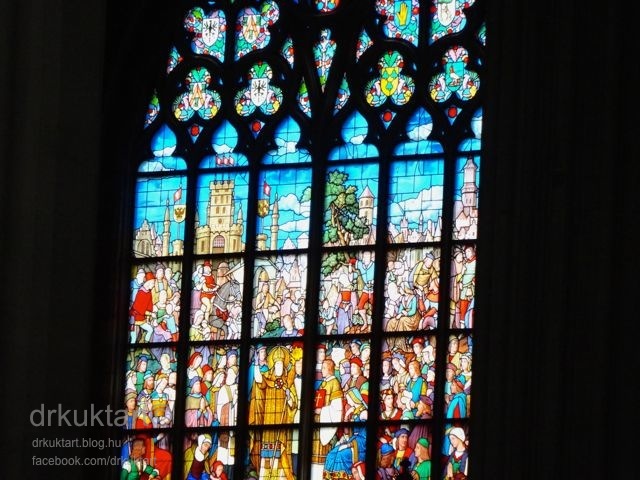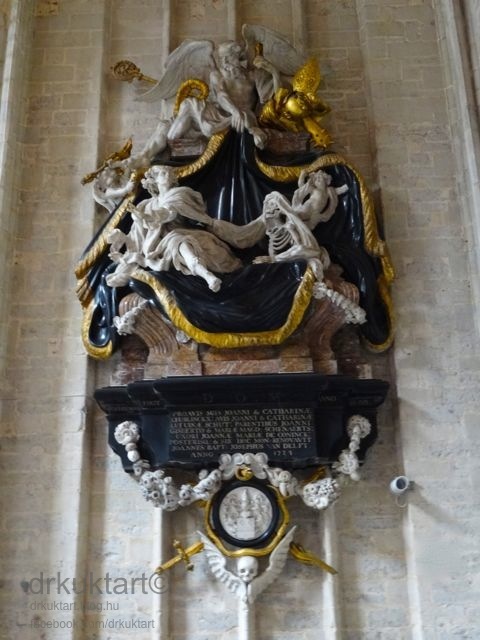 A templom Belgium legnagyobb gótikus temploma, és olyan haláli dolgok vannak a falán, mint például a fenti kis szösszenet.
This cathedral is the largest gothic church of Belgium.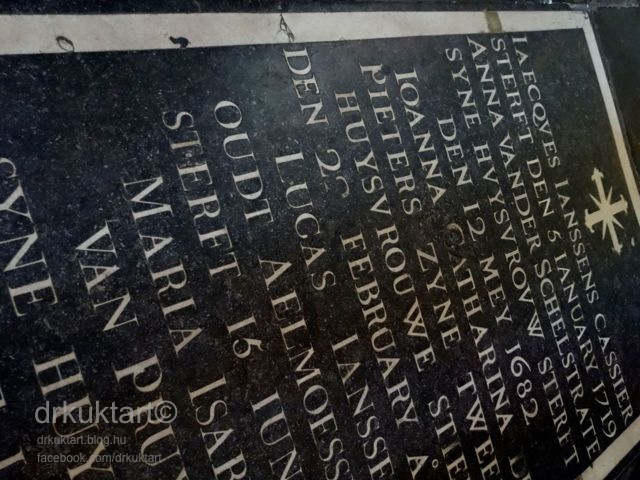 Ma már nem beszélt holland nyelven íródott szöveg a földön.
The text which is located on the ground and was written in old Dutch language.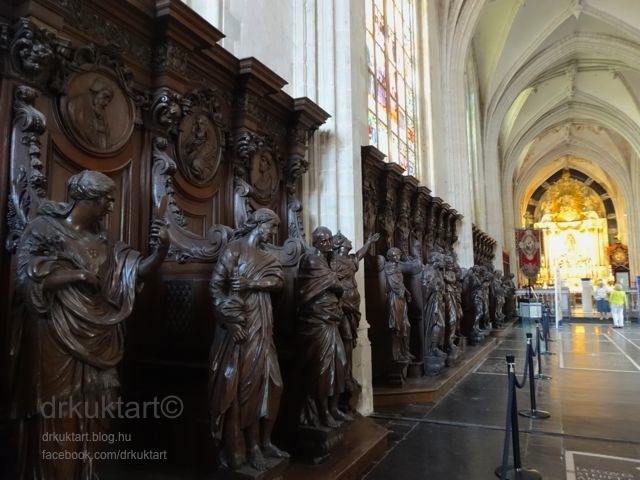 Gyóntatószékek.
Confessionals.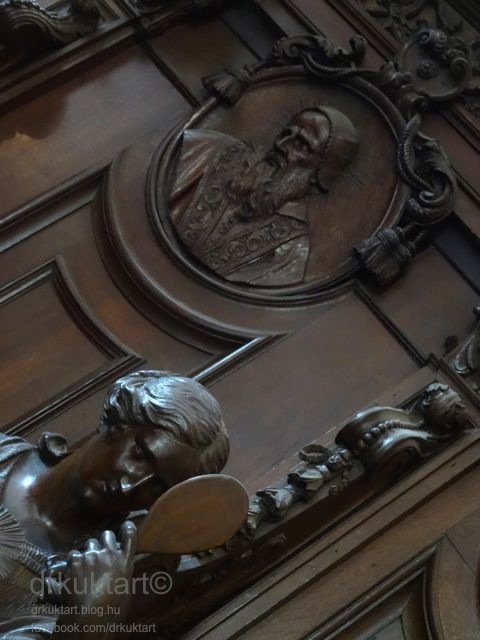 Tükrös hölgyemény a gyóntatószékek egyikén.
Lady with mirror which is located on one of the confessionals.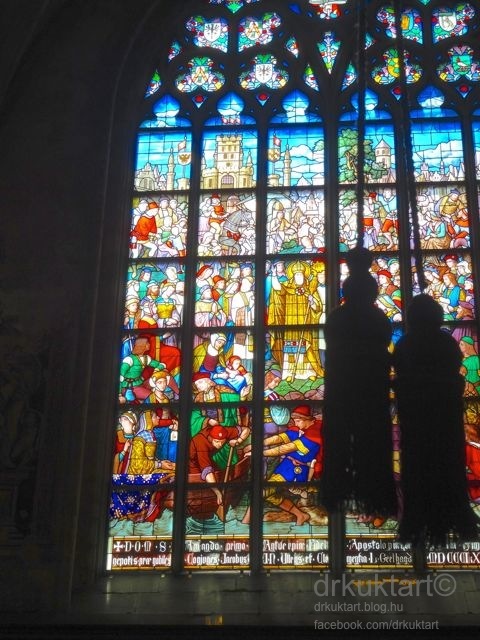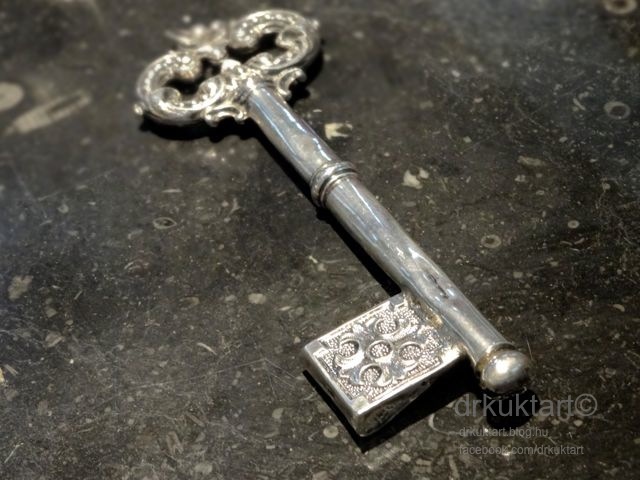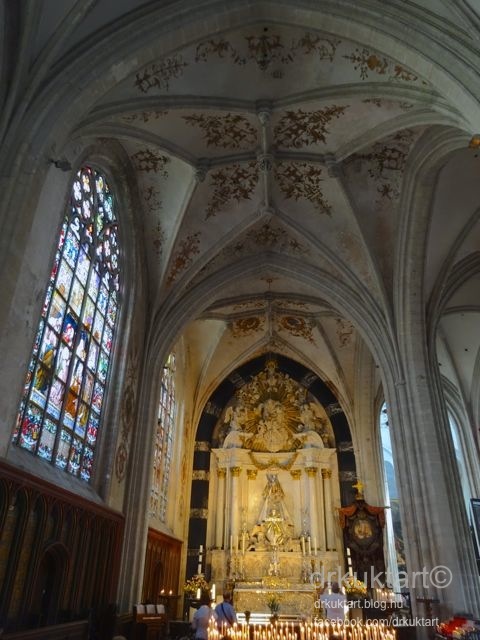 A Miasszonyunk szobor.
Our Lady of Antwerp.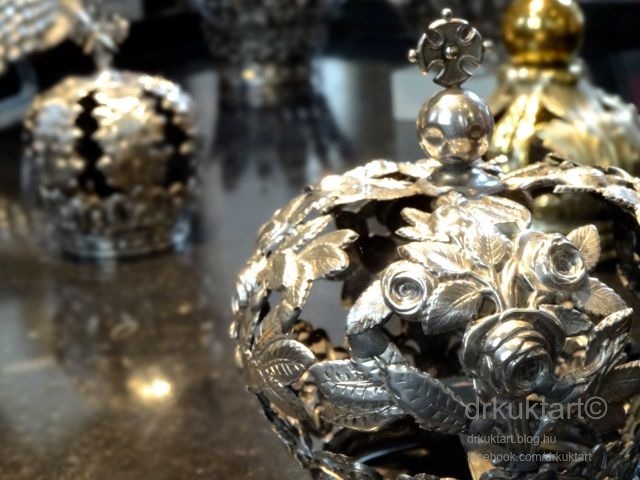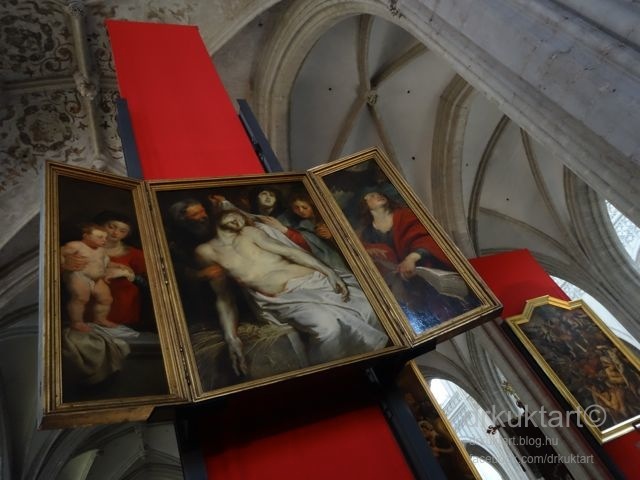 A Katedrális Rubens négy munkájával büszkélkedhet: "Krisztus színeváltozása", "Keresztállítás", "Levétel a keresztről" és "Krisztus feltámadása". 
Master pieces of Rubens in the Cathedral: The raising of the cross (1609-1610), The resurrection of Christ (1611-1612), The descent from the cross (1611-1614) and The assumption of the Virgin (1625-1626).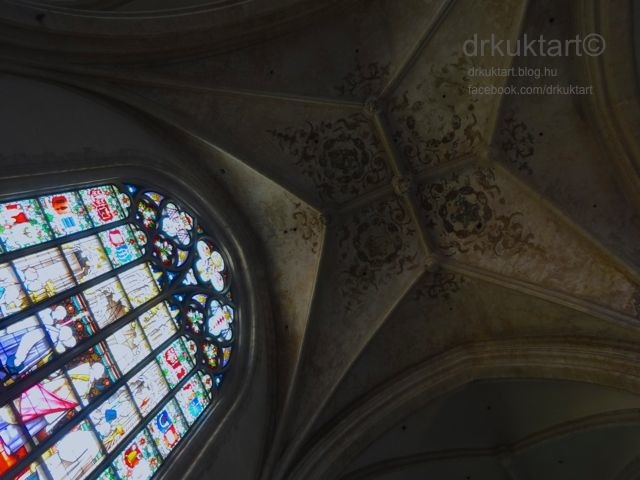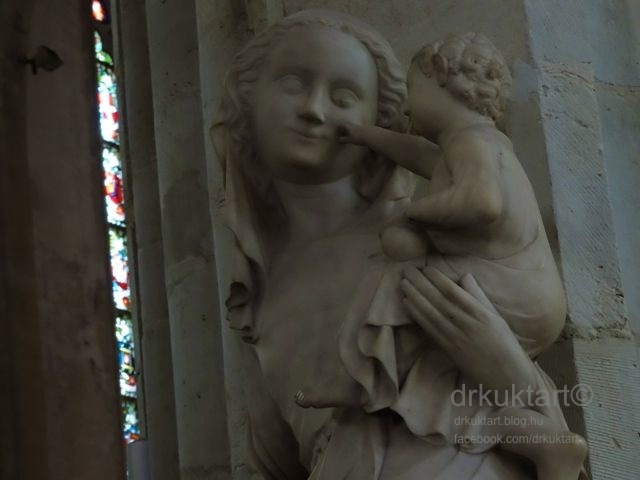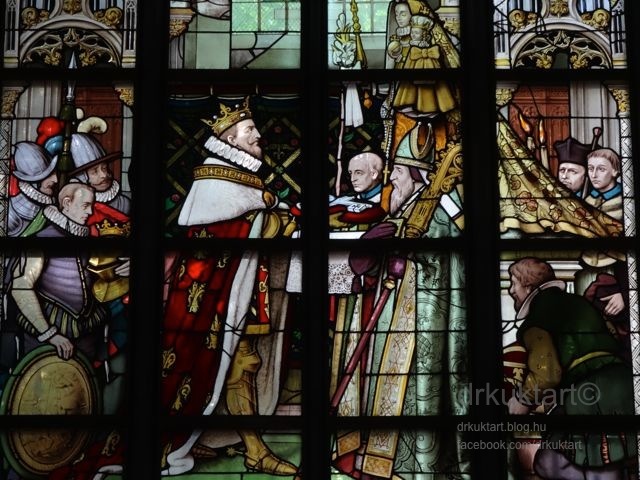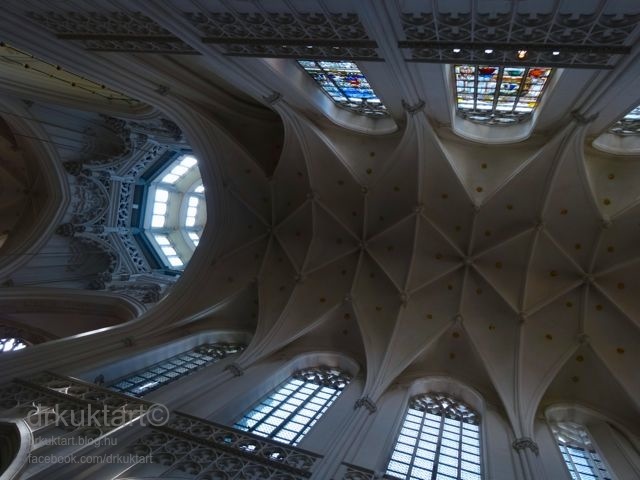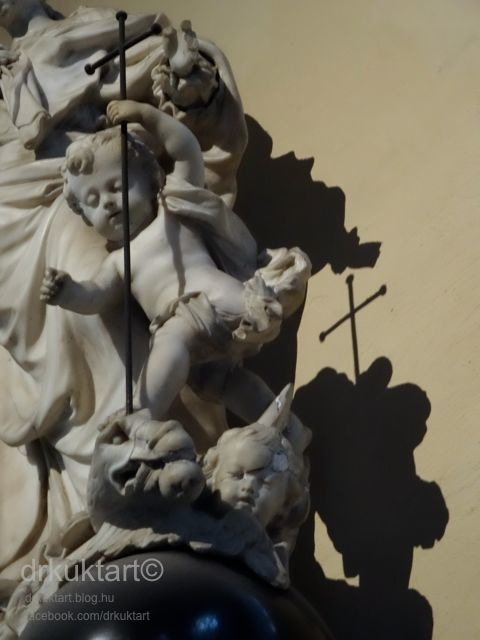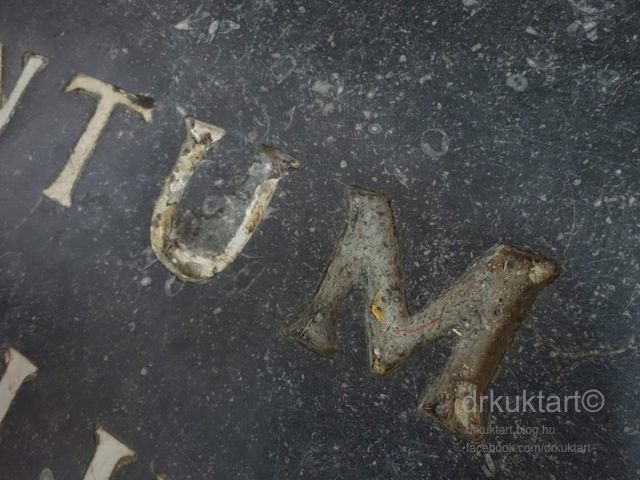 Az idő vasfoga: hiányzó darabok.
The signs of the time: missing pieces.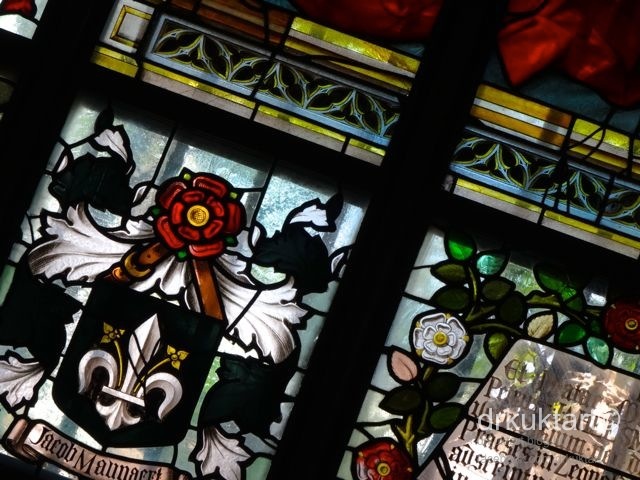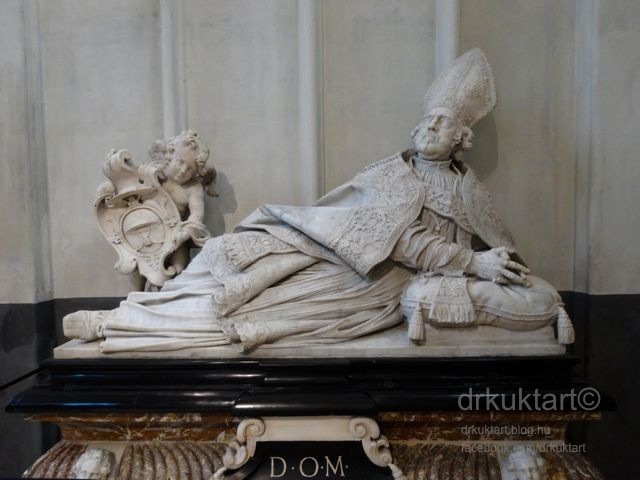 Marius Ambrosius Capello életnagyságú sírja.
Tomb of bishop Marius Ambrosius Capello.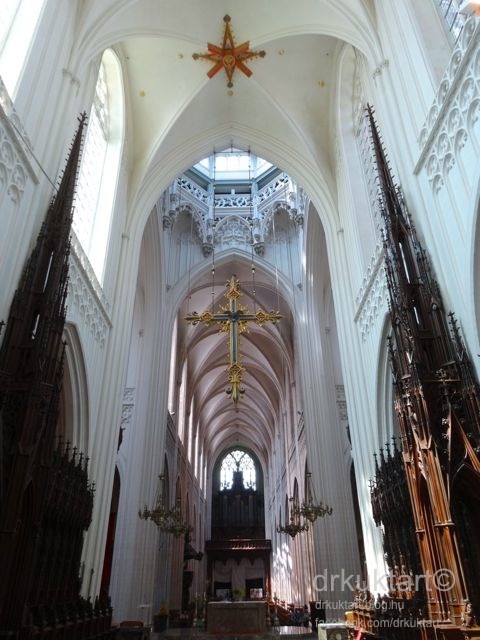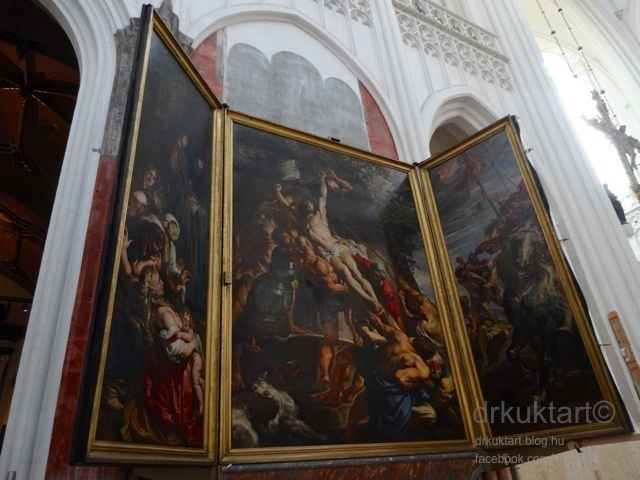 Rubens: Levétel a keresztről (1609-1610).
Rubens: The raising of the cross.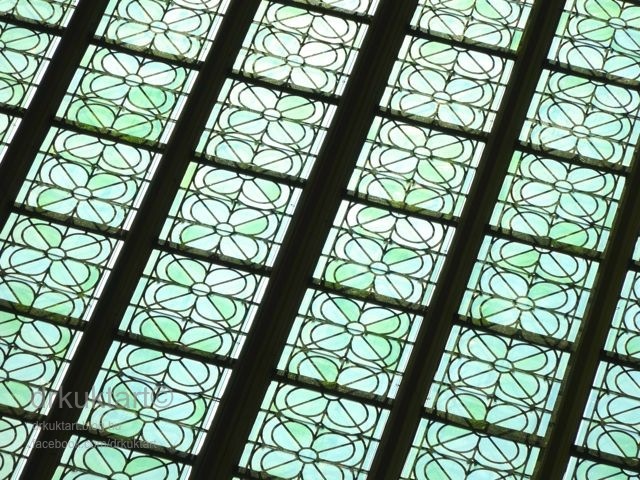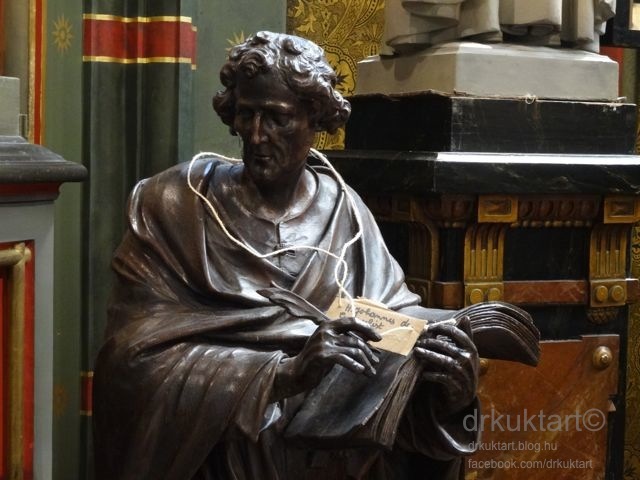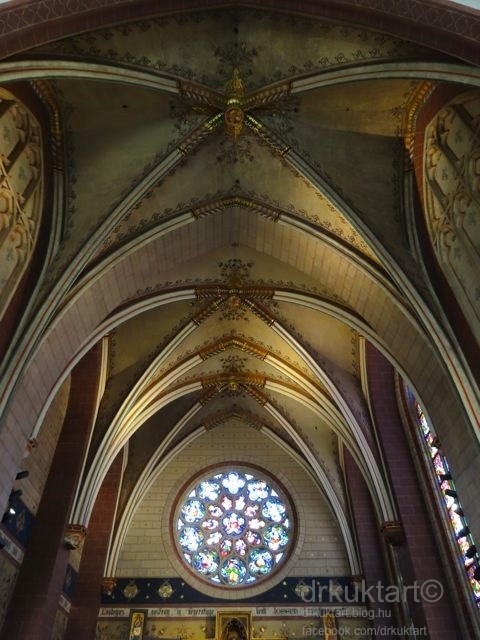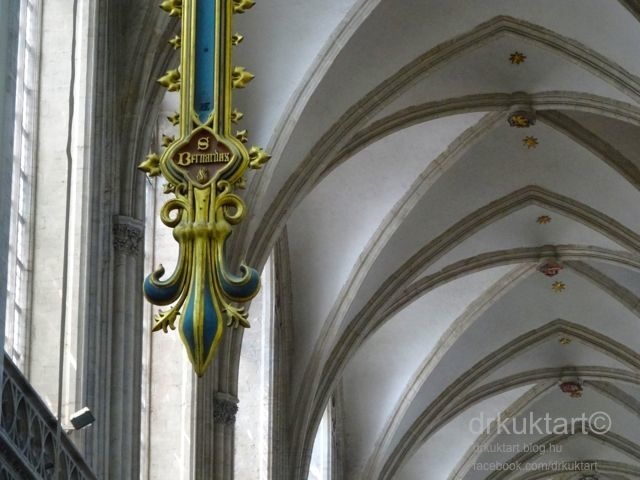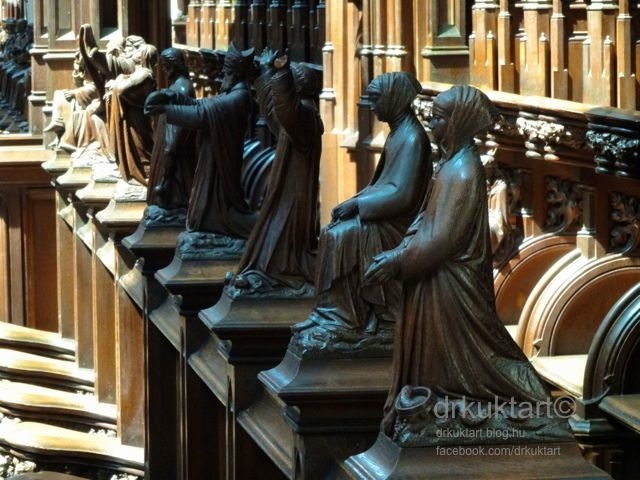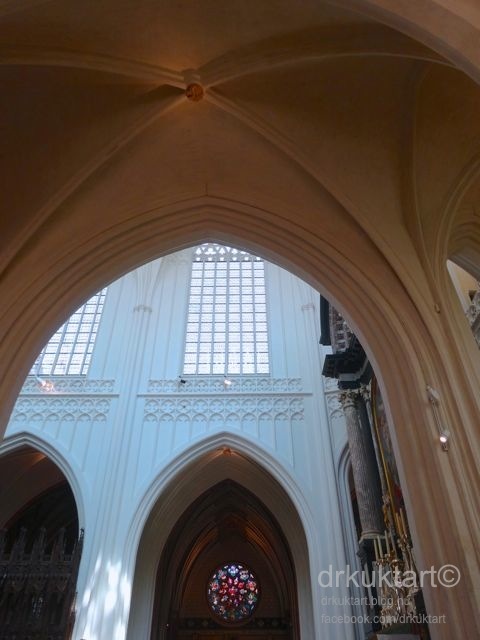 Mielőtt ellátogatnánk a templomba, mindenképpen ajánlom, hogy vessünk egy pillantást a honlapjára. Ha magyar nyelven nem is találnánk sehol sem részletes információt az épületről és a benne található alkotásokról, a honlap akkor is kisegít, többek között bemelegítésként egy jó kis angol nyelvű virtuális túrával.
Before visiting the church I recommend to check the virtual tour on its website.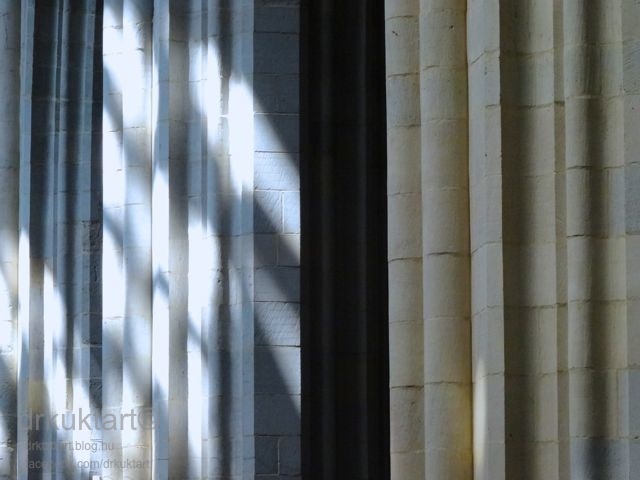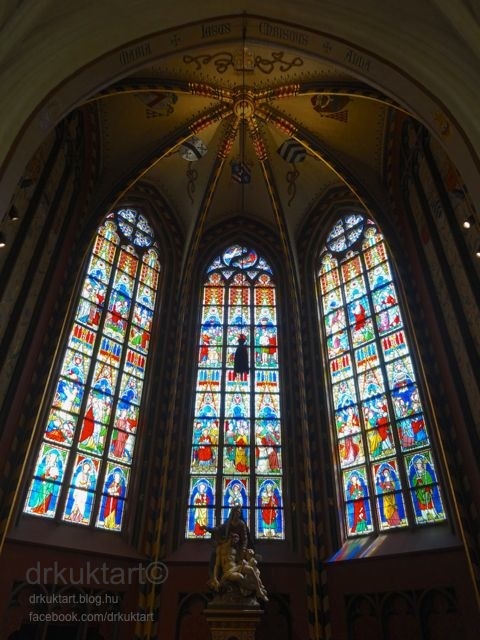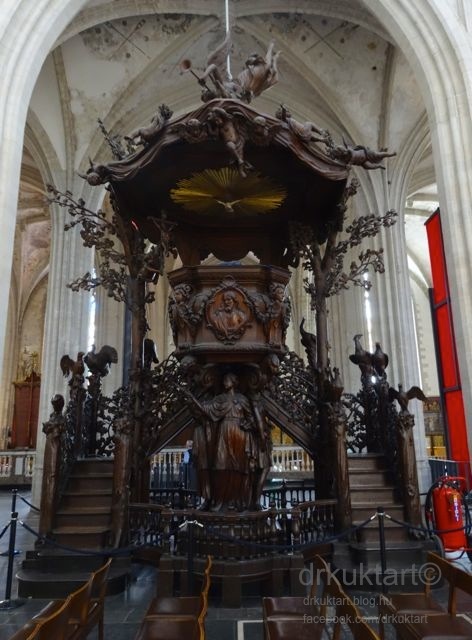 A tölgyfa szószék. Ilyen csodásat még nem láttam. Michiel van der Voort (1667-1737) készítette 1713-ban egy hemiksemi kolostor számára. 1804. óta a Miasszonyunk Katedrálisban található. 
The pulpit. I have never seen this beautiful one before. According to the website 'This oak pulpit, which was made by Michiel van der Voort (1667-1737) in 1713 for the St Bernard Abbey in Hemiksem, is richer in meaning than some sermons. It has been in the Our Lady's Cathedral since 1804.The banisters in the form of stems, branches and twigs, as well as the trees that hold up the sound-board that covers the casket, look very realistic. Indeed, so do the birds (among which are a parrot, a crane and a small owl) and other animals who have found a place in the lush vegetation. According to St Bernard, nature was an important source of inspiration for the faithful, and the pulpit recalls it vividly. (…) Indeed, the word of God was to be spread across the whole of the then-known world. On the baroque casket itself the faces of Christ, Mary and St Bernard are depicted in relief. The cherubs at the edge of the sound-board in rococo style create the impression that they carry the board up with them. In a halo of light the Holy Ghost, present as a white dove, spreads its wings, while at the very top a large angel trumpets the Joyous Message. In spite of the mix of styles - naturalism, baroque, rococo - this pulpit forms an unmistakable whole that belongs to the pinnacle of Flemish sculpture.'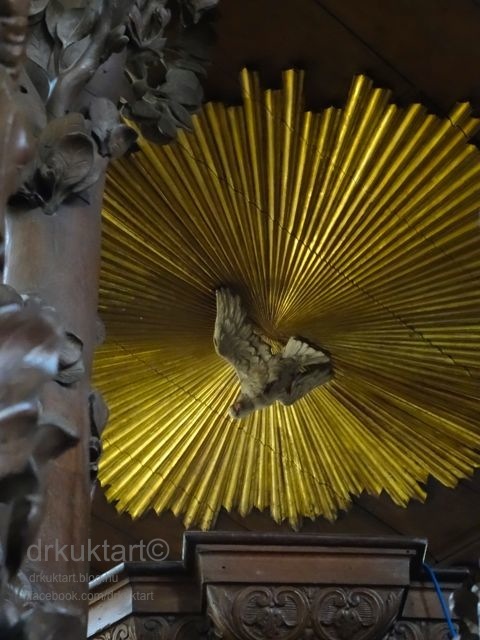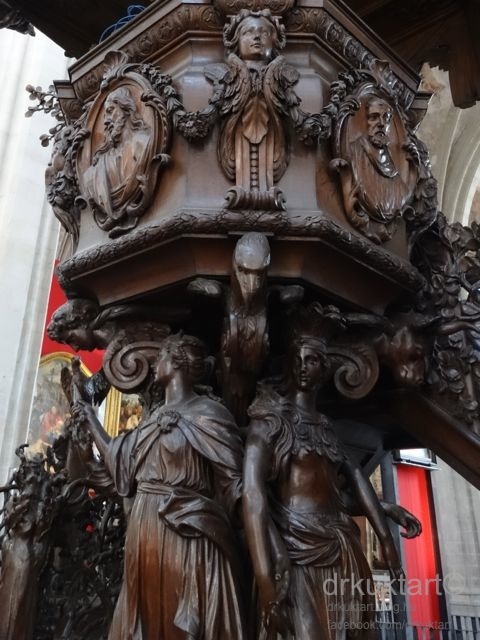 A szószéket tartó női figurák a négy kontinenst testesítik meg: Európát, Amerikát, Ázsiát és Afrikát.
'The base on which the casket rests consists of four female figures, each embodying a continent: Europe, Asia, America and Africa.'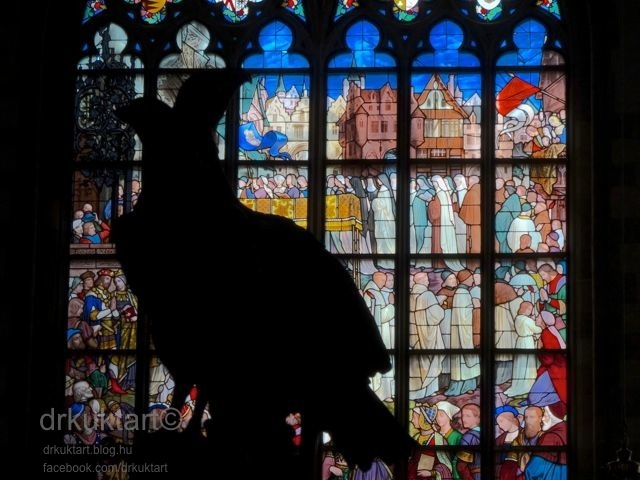 Madár a szószéken.
Bird decorates the pulpit.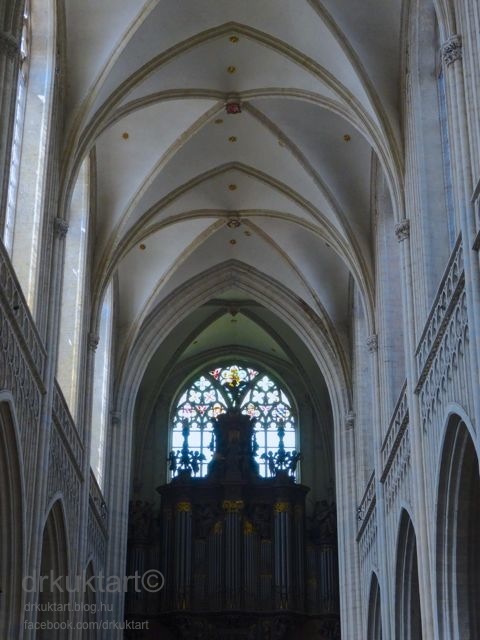 A székesegyháznak két orgonája van. Az újabb (Metzler) hangszer 1993-ból származik, míg a fenti képen látható Schyven orgona 1891-ből azzal az érdekességgel, hogy az orgona faváza viszont 1657-ben épült.
You can read on the website that 'The Our Lady's Cathedral has two organs. The new Metzler organ (1993), located above the south entrance to the ambulatory, was built for the performance of the organ compositions of Bach and his French contemporaries. The older, romantic Schyven organ (1891) permits the organ music of the nineteenth and twentieth centuries to achieve its proper splendor. The enormous baroque wooden case of the Schyven organ is much older than the organ itself. It dates from 1657 and was made according to a design by the painter Erasmus Quellinus the Younger by Peter Verbrugghen the Elder, who carved the figures, and Michel Boursoy, who took care of the ornamentation.'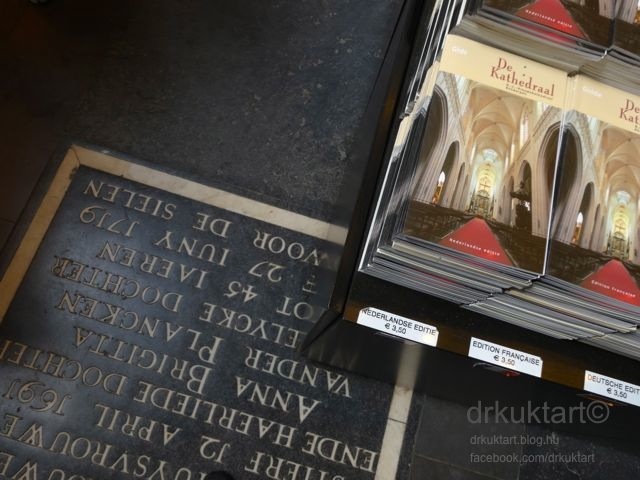 Az egyik sírra ráhelyezett állvány a templom boltjában. Érdekes...
A book stall which is placed on one of the tombs in the church. Strange...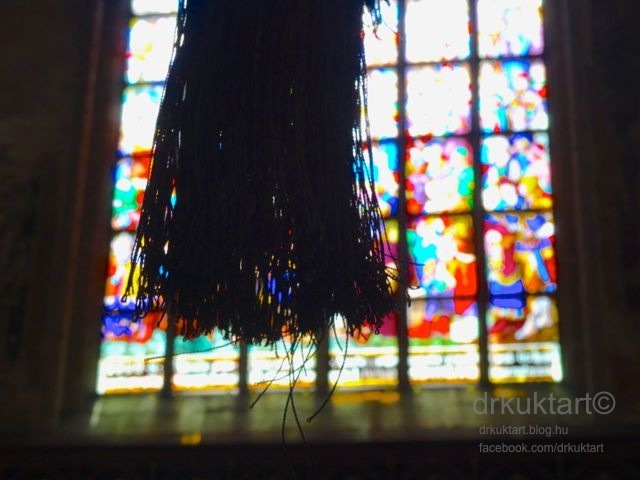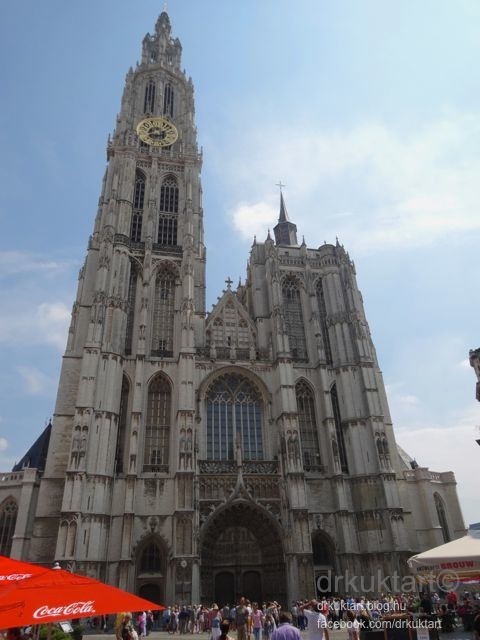 Szép napot!
If you like this post, follow me on Facebook HERE or Instagram HERE.
Have a nice day!